How does the Spill Monster work?
Say goodbye to those stressful spillage disasters with Spill Monster! From spilt drinks to dropped food, dog vomit to nappy explosions, floods to oil spills, this revolutionary absorbent powder will make your life so much easier. Get ready to experience the power of Spill Monster!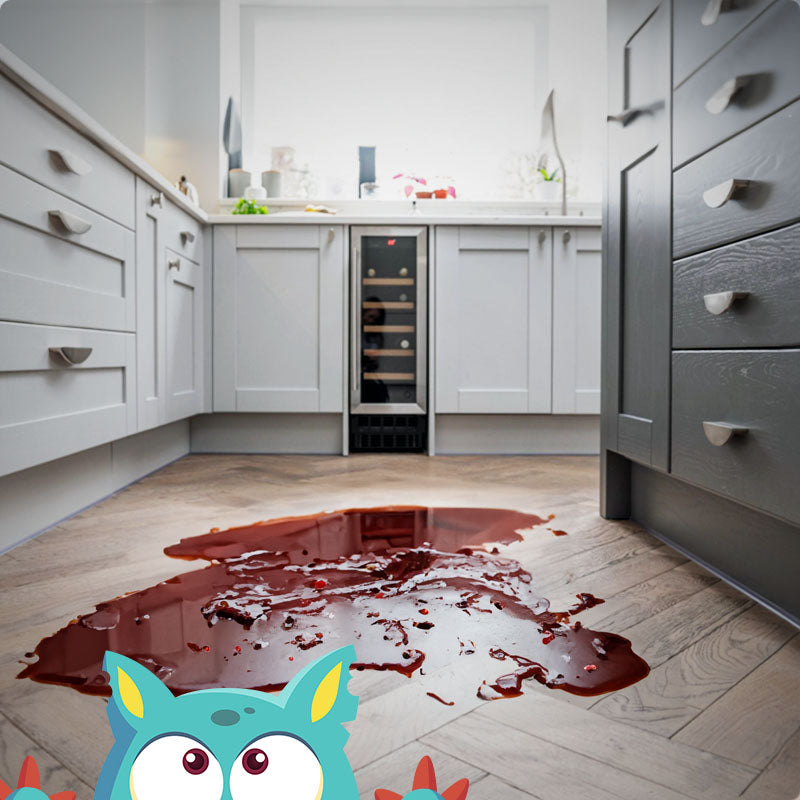 Bred to Eat Spills, Kill Germs & Swallow Odours
These super absorbent granules were formulated by our badass chemists (no, not the kind that work in their pants), Spill Monster will devour any spill that comes its way (bless it's little heart, just don't let it near hydrochloric or hydrofluoric acid). From vomit and blood to stinky flood water, Spill Monster can tackle them all, even killing any nasty bacteria and swallowing awful odours along the way.
Sprinkle it on, mix it in with a spoon, spatula or spade, then sweep or vacuum it away. It's that easy, don't let spills get the better of you - just reach for your Spill Monster powder!
Eats Spills:

- The 500ml pack can absorb a whopping 5 LITRES of liquid. But get this, for some liquids (like water), it can even absorb up to 50 times its own volume

- Once it soaks in and absorbs the spillage fully, it leaves behind a sleek, non-slip finish that'll keep you safe and sound

- Helps reign in those runaway messy liquid spillages and get them tidied up in no time!

Kills Germs:

- Spill Monster is proud to be antibacterial and loves annihilating 99% of all the nasties in most environments

- This bleach-free monster won't leave a mark on your surfaces so you don't have to worry about your decor.

- This monster is 100% non-toxic to humans, pets and plants so no need to worry about your furry friends!

Swallows Odours:

- Gets rid of the nasty smell by absorbing and nullifying spill completely - no one wants to smell that grossness!

- The quicker you use Spill Monster, the faster that nasty smell will disappear. Don't wait around!

- If you want to get the best results, don't forget to use room ventilation to remove any lingering smells
See how the Spill Monster works
Monster Fact File:
UK Made - Spill Monster was formulated, raised and nurtured right here in the UK, it's a true proud Brit through and through. We all love a British monster.
Fireproof - There's no chance of this monster combusting, so you can rest easy knowing that Spill Monster won't be the one going up in flames!
Super Friendly - Ceramic tiles? Yep. Wood? You betcha. Metals, carpet, concrete, upholstery, leather, plastics, tarmac, brickwork, grass? That's right, we've got you covered!
Where you can let the monster loose
This bad boy is designed for safe use in any environment or setting, if you think it will help, then it will. Still not sure?
Well, here's a list of ways Spill Monster could come in handy and save the day - you won't believe what Spill Monster has tackled during it's time.
Homes

Baby's "ripe" nappy gets dropped on the kitchen floor because SOMEONE wan't concentrating.

Hospitals

Blood and vomit are Spill Monster's speciality, perfect for when dealing with a missing toe.

Doctors

Be ready for anything a patient brings in including those of the runny brown smelly nature.

Dental

Don't want yellow "slippy floor" sign in the practice for the rest of the day after an accident.

Vets

Poorly dog throws up all over the reception area after eating a pile of horse manure on its walk.

Laboratories

Someone has a whoopsie that needs to be cleaned up fast...... just not the hydrochloric acid!

Care homes

For those, you know, those little accidents that need to be dealt without a fuss.

Hotels

Guests leave a nice surprise on the bathroom floor and the next check in is fast approaching.

Restaurants

Restaurant owner ready to deal with the mess after a tipsy customer spills spaghetti and meatballs everywhere.

Transport

You're a taxi driver and the 2am pick up from the nightclub has just emptied his stomach in the backseat of your car.

Factories

Mechanic with oil spurting out of a piece of equipment all over the factory walkway.

Schools

During winter term, the kids are dropping like flies and it's only a matter of time until one explodes in class.
Order your super absorbent monster here:
Regular price

£20.00 GBP

Sale price

£14.99 GBP

Unit price

per

Regular price

£49.99 GBP

Sale price

£44.99 GBP

Unit price

per
Need assistance? have a question?
Don't worry, the Spill Monster has got your back. Complete our form or shoot us a message and the monster will get back to you pronto!